The Hive is Available to Rent January-August and November-December
Just Piddlin Farm offers rental space in our enclosed building (Hive) throughout the entire year. Times and activities available differ during our fall season.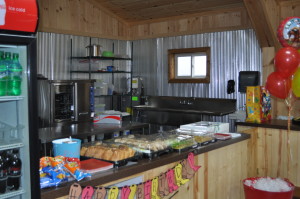 Throughout the year we rent out the Hive for:
birthday parties
family reunions
company picnics
business meetings
and other special events
Rental Cost:  $125
What is Included:
4 picnic tables inside the Hive building
Use of up to 4 six foot tables
Use of up to 4 eight foot tables
Extra chair seating in area (32 lifetime brand folding chairs)
Use of refrigerator space
Use of freezer space
Permanent playground equipment
Possible barn space (specifics discussed with JPF)
Outside pavilion usage
What is NOT Included:
Any food or drink (must bring outside food)
Any decorations (except clear tacks for wall hanging)
Event times:
Friday evenings
Saturdays
Sundays after 1 pm
Scheduling:
During the offseason, we are more flexible on our event times available to groups. Your Event is allowed 3-4 hours, this INCLUDES TIME FOR SET UP AND CLEAN UP. Any additional time needed is available for $25/hour.
Booking is first come, first served. Call JPF to schedule